(The best platform ever devised for radio automation, period.)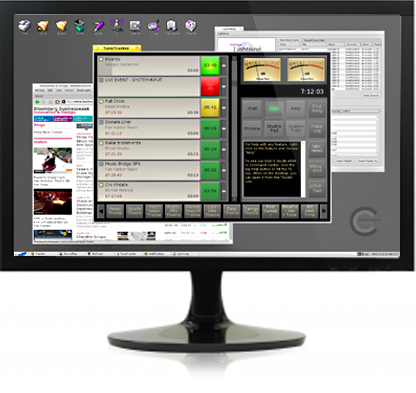 Most radio automation software is written to function "in spite of" the operating system it runs under. TuneTracker Systems has taken a different approach. We use Haiku®.
Haiku® (a free, open source alternative to Windows, Mac, and Linux) actually enhances the performance of AutoCast. It was designed from the ground-up for stability and jitter-free handling of high-bandwidth media such as audio and video.
As a result, AutoCast runs faster, smoother, and more reliably. It isn't easily "perturbed" by other tasks being performed on the same computer. By taking advantage of the inherent strengths and built-in capabilities of Haiku®, we are able to keep our applications extremely compact and lightning-quick. For a mission-critical task like radio automation, we don't think any other system can touch it. Haiku's power, jitter-free performance, low "overhead" and green friendliness are all reasons why people love our systems.
As light as a feather

Haiku® is extremely light-footed. Rather than being built on a mountain of old programming code accumulated over decades, Haiku's modern design is small, tight, and focused. It boots in under 15 seconds. Most programs launch instantly. Even when multitasking (running multiple programs and tasks at the same time), Haiku's unique "multi-threaded" design keeps everything happening quickly, even on modest hardware.
What hardware does Haiku® run on?
Haiku® runs on standard PC hardware. If you're planning to use your own computer, we recommend you double-check your PC components for compatibility by ordering our TuneTracker Experience USB demo. If you're in doubt about your hardware, or want the confidence of using a tested, warranted computer system, we recommend you go with one of our pre-built Station-in-a-Box systems.
Will Haiku® "like" my other computers?
Absolutely. Transferring files to and from your Haiku computer is a breeze. Maybe you have a Mac in your production room, a Windows PC in your front office, and a Linux box in the Engineering department. No worries. Haiku will network beautifully with them all.
What is Haiku® like?
In terms of its appearance, functionality, and ease of use, Haiku® is very similar to Windows, Linux, or Mac. It's a 100% graphical, point-and-click interface that's immediately familiar, intuitive and user-friendly. How does it differ? Read on.
When it comes to performance, Haiku® is just amazing. It opens your eyes to what your PC hardware is actually capable of. It's stable, shockingly fast, smooth, and responsive.
Does TuneTracker Systems provide Haiku® support?
Yes we do. We are well-versed in the operating system and happy to assist customers with their questions. We also provide additional resources such as our TuneTracker support group, a chatroom, and a great three-disc set of "FastTracker Video Learning Series" DVDs about the operating system and its predecessor, BeOS.
How does it install?
TuneTracker System 6 ships with a free copy of Haiku®, and installation instructions. Just boot from the provided USB key, select the drive or partition you wish to install it to, and the entire operating system and System 6 will be automatically installed for you. Total installation time is just a few minutes.
"But it's not Windows."
Windows does many things well, and we're not here to knock it. But these days, there are other environments where you can also accomplish great things, such as the Mac, iPad, Android, Haiku, and ChromeBook. Each has its strengths and best uses. When it comes to radio automation, we believe Haiku® wins the prize, hands down.