Fresh improvements, delivered free!
We decided free is better.
Update365, a service that used to cost $250 per year, is now free to all System 6 users, simply because we wanted to do it, and felt you deserve it as our customers. To qualify, all you need is a current point release (major release version) of TuneTracker System 6, and you will automatically benefit from free updates to all the products in our system, including AutoCast, TuneStacker, Lightning, MakeMyDay, ArmyKnife, and CSacker.

There's nothing to order, nothing you need to do. Just enjoy free, fresh updates, courtesy of TuneTracker Systems.
Each of the programs has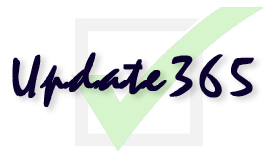 an updater built right in. Just select it and "Check for updates" to see the latest-greatest. If a newer version is available to you, its description and a list of improvements will be displayed. A single click installs the updated version for you. Just make sure you're on our QuickTips e-mail list so we can let you know when updates are available.
Update365 will deliver all kinds of improvements to you, from new features, to enhancements of existing features, to corrections and bug fixes. And there's no guesswork, because we'll send out notifications to you whenever a new version is available. When a new point release comes out, which is a paid upgrade, you will be alerted by the Updater.
Update365 Update Plan

Update365 upgrades

Qualifies purchaser of of any version of System 6 after Nov. 15, 2014 to receive unlimited free updates to System 6 components during the entire run of the current point release (major release version).

$0.00