"The TuneTracker Experience" USB Flash Drive
"The TuneTracker Experience" is a complete installation of our newest and greatest version, "AutoCast" (System 6) on USB flash drive, that you can try out on your computer. With the USB demo, you'll get a complete copy of the Haiku operating system (yours to keep), plus runnable demos of ALL of System 6, including a sample radio station and a sound effects sampler (also yours to keep). The demo is so complete that it literally comes up and starts broadcasting as soon as you boot to it.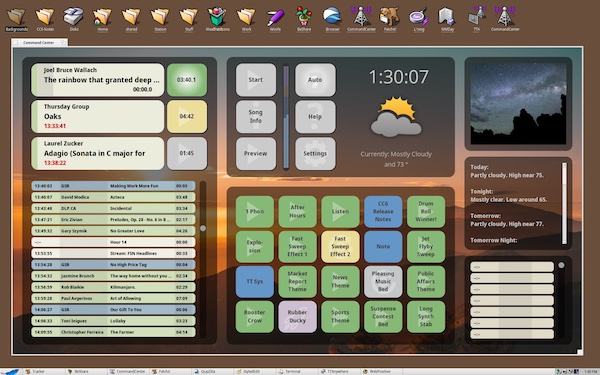 (Click to enlarge)
Just Plain Fun!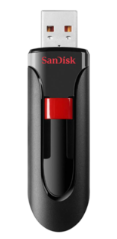 Haiku's speed and elegant simplicity makes it a wonderful operating system, and our new "AutoCast" automation software adds an elegance of its own, with muted colors, transparency, and your choice of dozens of scenic backgrounds. The system comes with a sample radio station you can play, a full User's Guide," and our entire suite of accessory products such as MakeMyDay, ArmyKnife, TuneStacker, ClockMaker, and more. It's serious software, that's seriously FUN to use!
A free 22-minute video guided tour of TuneTracker System lets you learn about the radio automation, TuneStacker music selector/program log builder, Lightning request finder/program log editor, ArmyKnife song editor, CSacker report generator, and the exciting add-ons that are available for special needs. You'll quickly discover just how intuitive, user friendly, and powerful our system is.
Also Included
When you receive your USB flash drive, it will come with instructions that tell you how to boot to the included 8 GB USB flash drive and test the system right there, as well as details on how you can install the entire system to an empty partition on your computer.*
Hardware Compatibility
One of the important benefits of The TuneTracker Experience USB flash drive demo is that it allows you to determine for yourself if your computer hardware is Haiku-compatible. If the USB demo boots fine on your existing hardware, and you have networking, sound, and video, you can confidently order the software license, which will unlock the system permanently for you.
* Careful! Don't install the contents of the USB stick to your hard drive unless you're 100% certain the drive contains nothing of value. Installing from USB WILL wipe out whatever is already on your hard drive volume.