You dream it up...TuneStacker™ makes it happen.
TuneStacker Music Scheduler
Included in the TuneTracker System 6 suite is TuneStacker™, our advanced music selector and program log creator. Generate sophisticated music mixes, built to your exacting criteria, with ProximityGuard™ protection against playing the same thing too often.
With TuneStacker™, you can use multiple criteria for each song added to your playlists, which gives you remarkable control over the flow of music on your station. Start the hour with a "Fast," "Pop" song from the "90s", follow it up with an "AlternativeRock" "Medium" tempo song rated for "EveningsOnly," and wrap up the three-song sweep with a "ConcertLive," "Fast," "AlbumCut" of "ClassicRock." Yes...it really is that versatile.
It's not just what you include...
Advanced format designers understand that it's not just about the songs you include. Sometimes it's also about the songs you leave out. Using our "But Not" feature, you can, for example, start the hour with any "Uptempo" "Instrumental," "Rock" song from the "1970s", that isn't marked as "MorningsOnly."
DMCA compliant
TuneStacker™ provides powerful, multi-layer ProximityGuard™ protection features that prevent your listeners from hearing the same song too often, and if applicable to your situation, allows you to present your musical selections in a format that complies with DMCA regulations for Internet broadcasting. Going well beyond DMCA requirements, TuneStacker™ lets you build layer upon layer of protection against repeats.
A clear and easy interface...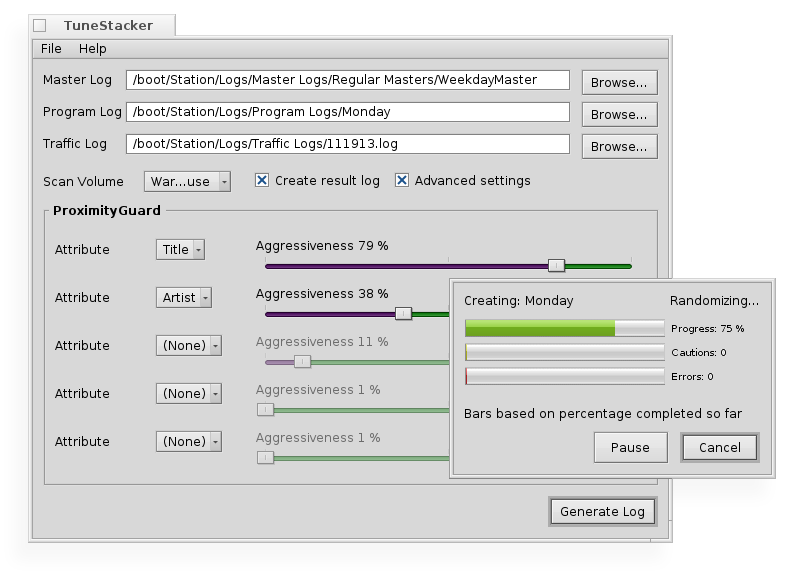 Don't let the simplicity of TuneStacker's appearance mislead you. As with the rest of our products, TuneStacker™ stows all its power and ingenuity in its engine compartment, leaving you with a clean, simple-to-use interface. Just choose the master log you want used, the program log you want to create, and click "Generate."
Fresh-picked music...
TuneStacker™ offers a variety of clever user options that let you add selections to your program logs by a virtually unlimited number of unique criteria, resulting in an always-fresh, creatively designed music mix based on your own exacting criteria.
Randomly add music based on Title, Artist, Album, Genre, SubGenre, Tempo, Gender, Rating, and many other categories. You can also also randomize based on special attributes like Comment, Misc1, Misc2, etc.

Use multiple criteria for each song added to your program logs. This lets you control the tempo, genre, gender, etc. of your music flow throughout the hour.

Every hour of every day can be different. Use as many unique format clocks as you like.

Hard-wire specific audio files to be played at certain times, such as newscasts, weather reports, etc.

"Rotate" through a series of cuts that all match the same criteria. For example, set up a rotation that will play evenly through all of your PSAs, then return to the beginning of the rotation and start over. "Rotate" acts just like the traditional tape cart, and even carries-over rotations from one day to the next.

"PlayFolder" is a System 6 innovation. It lets you put together an entire radio show by simply dragging all of the required cuts (program open, program segments, commercials, program close, etc.) into a folder, and numbering the filenames in the order you want them played. TuneStacker™ will add them all, in order, into your program log. It's a huge production-saver and you're going to love it.

"GetPlay" automatically grabs the correct audio file every day, based on a date in its filename. Great for voice-tracks, daily commentaries and devotional messages, etc.

"Break" markers can be placed in your master logs, indicating where commercials from your Traffic software should "fall" when they are merged-in.
One step, not two or three...
With most automation systems, you must purchase and run separate music selection software, and then merge the resultant "music log" with your master log. If you're using traffic software to schedule commercials, the traffic log must then also be merged-in. System 6 saves you time every day by generating the program log, creating your fresh music mix, and importing/integrating your traffic log for you.
The inclusion of TuneStacker™ in System 6 also saves you the hundreds (or thousands) of dollars you would have spent to buy your music selection software separately.