The one-click rip.
TunePrepper CD Ripper and Song Prepper
Songs ripped straight from CD to MP3 are simply NOT ready for broadcast. They must be normalized, so levels match up, silence-trimmed to tighten your transitions, embedded with information such as artist, album, title, comment, genre, etc. for use in music selection, and encoded to the format that makes the best sense for your particular situation, and if you're doing the work on a machine other than your broadcast computer, transferred to the broadcast computer.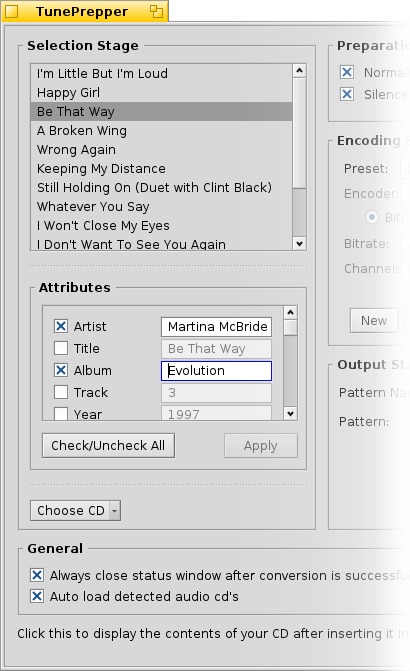 Translation: Prepping music for broadcast can be hard work.
Enter, TunePrepper.
TunePrepper™ does it all...in one shot. Our comprehensive system rips, normalizes, trims silences, looks up cut informationline, saves your file as an MP3 or WAV, and adds cut data to the files' attributes so they can be easily selected by your own creative criteria when generating program logs.
Best of all, because it runs under Haiku®, TunePrepper™ can be used on your broadcast computer, without fear of interrupting your on-air programming. No more shuttling songs from one computer to the other. Rip them straight into your broadcast machine right while you're on the air.
A clear and easy interface...
Open your CD from the desktop and its music tracks will appear automatically in TunePrepper. Now select the way you want the files ripped, and click Start. TunePrepper does the rest. For most, the default settings will work just fine, but if you want to get fancy, you can totally customize the behavior and performance of this program, customizing your song preparation to meet your station's exact needs.
The power is in the programming...
TunePrepper™ gives you the ability to rip music from CDSs and save it to several different formats, including MP3, and provides "power users" with the ability to fine-tune many of the encoding features to their personal taste. And because it runs under Haiku®, it's courteous enough not to disturb your on-air broadcast, meaning you can safely rip and process music while on the air.
TunePrepper™ isn't just for songs taken off CD either. You can use it to process files already on your hard drive; converting them from one format to another, trimming silences from them, and normalizing their volume levels so they match and transition beautifully over the air.
TunePrepper™

Music Ripper and Prepper

Single user license and software for TunePrepper™ music ripper/prepper and file converter.

$79.95

Qty: