Import your audio library information into your favorite music scheduling software, analyze it in spreadsheets and databases
While System 6 comes with a powerful music selection program of its own called TuneStacker, some stations already have a music selection program they prefer using.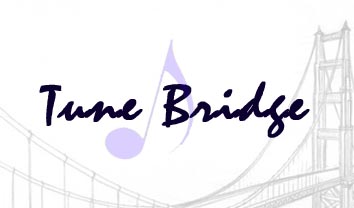 Compatible with Selector, Music 1, MusicMaster, Natural Music, Power Gold, and likely compatible with others. Compatible with Microsoft Office, OpenOffice, and most other spreadsheet and database programs.
No problem.
TuneBridge will comb the contents of your AutoCast-based radio station, even across multiple hard drives and partitions, gather up all the available data on the music and other audio files in your collection, including details such as their Path and Filename, Title, Artist, Album, Genre, Tempo, Comment, Gender, song Length, Ramp times, and much more, and store all that rich data in a standardized database format that can be easily imported into your favorite music scheduling software. And it's compatible with all the popular programs out there (see list just above).
But even if you never use TuneBridge to import song information into a music selection program, the data "mined" in just seconds by TuneBridge is priceless. The rich information it collects can be loaded into a spreadsheet or database program to allow detailed study of the contents of your music.
Just what is in your station's music library? Is your collection big enough? Too big? How much of it is useful? How much is just wasting space? How many are duplicates? Do you have enough of
certain genres of music? Too many of certain tempos? Not enough by certain artists? Has it become scattered into obscure folders on your hard drive or hard drives?
Stop guessing
TuneBridge. Know at a glance exactly how much of your library is of a certain Genre or Length, or other specific criteria. Generate an unlimited number of unique, customized charts, graphs, and reports using the tools provided in your spreadsheet or database program. Use a commercial suite like Microsoft Office, or one of the excellent free resources such as OpenOffice, or the cool online Zoho database tool. Zoho can be used right from your TuneTracker computer using the Firefox web browser.
Using TuneBridge is simplicity itself. Just launch the program, choose the drives you want scanned, and TuneBridge will generate your database file and save it with to the location and filename you specify, in a standardized format. You can also limit the search to only a specific folder and its sub-folders if you prefer. Best of all, you can update your music database at any time by simply rerunning TuneBridge and generating an updated database file.
TuneBridge is the brilliant way to take command of your music library.
TuneBridge

Music database generator

Single user license and software for TuneBridge music database generator

Clicking this button certifies you agree to our terms and conditions.

$199

Qty: